Blog
Double your happiness on Easter Day with Turbo VPN!
Double your happiness on Easter Day with Turbo VPN!
Turbo News · 3 minutes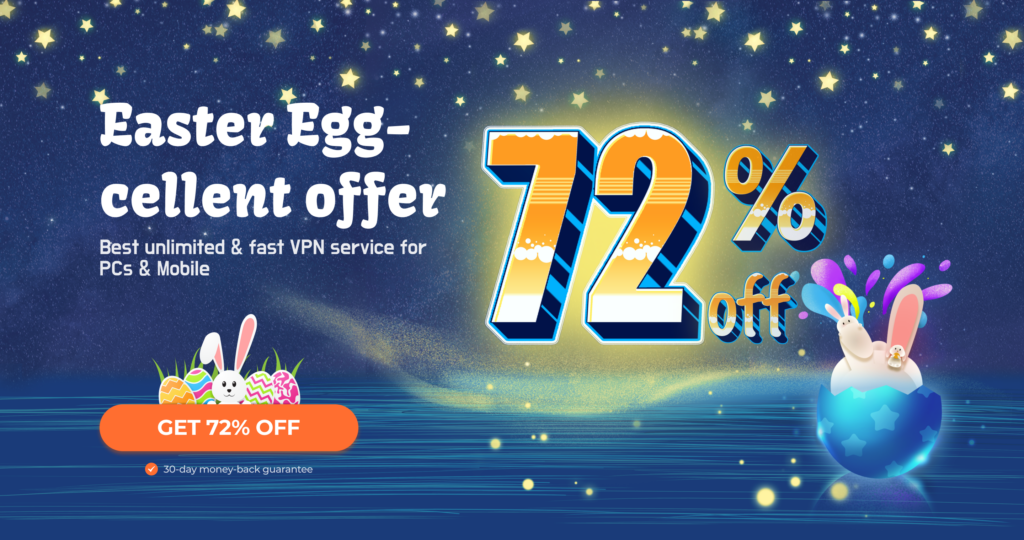 Easter is just around the corner, and Turbo VPN would like to wish you and yours a happy and safe holiday. What's more, Turbo VPN would like to share this wonderful holiday with all of you who have been supporting us. So no more waiting! Let's double your happiness on Easter Day with Turbo VPN!
It's Time to Have Joy and Fun!
Have no idea what to do to enjoy your Easter holiday? No worries, Turbo VPN is here to help! Turbo VPN - the safest and fastest VPN for entertainment, trusted by more than 3 million Turboers. See what you can do on Easter Day with Turbo VPN:
Gaming: With Turbo VPN, you can unlock all the blocked games, skin, map, add-on, and more. You can play games smoothly without DDoS attacks, bandwidth throttling, blocked content, ping, and lag.
Streaming: Stream what you want like dramas, movies, sports lives, music, etc on Netflix, Hulu, HBO, ESPN, Spotify, and more by connecting to Turbo VPN. It allows changing your IP address to get access to all geo-blocked websites.
Socializing: With Turbo VPN you can socialize freely on any social media or dating app. Whether you are on restricted wifi, or if those social media and dating apps are blocked in your part of the world, Turbo VPN could be the answer.
Use Turbo VPN to entertain your Easter Day! If you don't have a wish list of dramas, movies, or games that you want, dive into our website and check out the rest of the blogs, which list many recent popular movies, sporting games, games, music, and so on. Pick one and start enjoying your holiday!
Here is how to use Turbo VPN to enjoy your gaming, streaming, socializing from anywhere:
Download and install Turbo VPN
Connect to any server that supports any of the gaming, streaming, or socializing services.
Enjoy what you want to do.
Get the Easter Special Gifts from Turbo VPN!
To celebrate Easter Day, Turbo VPN has prepared an Easter special game for everyone.
From April 12 to April 19, there will be three pictures posted each day for three days on Facebook, Instagram, and Twitter, and you need to find the hidden carrot in these pictures. Those who find the hidden carrot will get a chance to win a FREE 3-MONTH VIP TRIAL (3 winners in total). Interesting and tempting, right? Don't hesitate! Check out our social media for more. Join the game and win the gift!
In addition, there is another gift you can't miss! During the holiday season, you can save 72% on a 2-year plan with Turbo VPN. Click here to grab your Easter Egg-cellent offer!
Don't forget to share our special Easter game and gifts with your family and friends and show them you care for their online existence.
Happy Easter Everyone!