Blog
Get Tips to Save Money on Streaming Services
Get Tips to Save Money on Streaming Services
Tips & Tricks · 6 minutes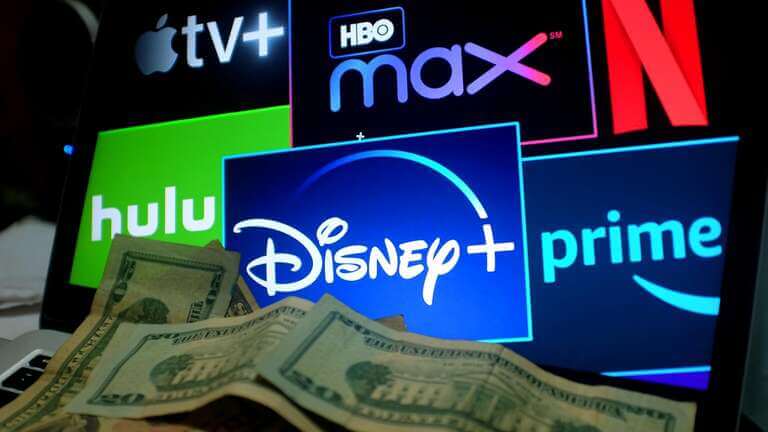 We must rethink many of our purchases and expenses due to the cost of living problem. Sadly, streaming services fall into this category since it's getting harder to justify the cost of multiple subscriptions as essential costs like gas, electricity, and phone plans rise.
Currently, streaming services seem to be a must for most homes. But as everything gets more expensive, it's time to reconsider whether we still require them. You may reduce your monthly expenses by canceling your streaming subscription, but you don't have to give up a hobby.
You could save some money on your streaming platforms before canceling them if you follow a few simple tips and methods. Here are several tips I use to cut costs on Netflix, Amazon Prime Video, and Disney+, among other streaming services.
How to Save Money on Streaming Services?
Reconsider the services you need
Do you have multiple streaming services? If you subscribe to several streaming services, it's a good idea to think about what you gain from each one. You can choose which ones to keep and which ones are unnecessary expenses by evaluating the benefits and drawbacks of each one and comparing them to the price you are paying.
For instance, the monthly cost of a typical Netflix subscription is $15.49. Although Netflix is renowned for its original programs like Bridgerton and The Crown, it frequently cancels and removes popular programs. Comparatively, Amazon Prime Video costs $14.99 a month and offers access to extra perks from Amazon, like free shipping, in addition to merely a streaming service. With its Marvel, Star Wars, and Disney programs and other channels included in its $7.99 per month membership, Disney+ has become a household name. These channels include Hulu, discovery+, and Star.
This can assist you in deciding which services to maintain and discard by examining what you receive from each and the associated cost.
Choose long-term plans
Although you may only commit for a month at a time with a monthly payment, purchasing a yearly membership can help keep costs down. Consequently, paying yearly is more economical. It will save you money in the long run and will relieve any monthly bill anxiety.
Downgrade your subscriptions
As was already noted, you may lower your package if you feel you aren't viewing enough or getting the most out of your membership. Netflix only offers this, but given the service's recent decline in customers and efforts to crack down on multiple people sharing one account, it would be worthwhile to choose the less expensive alternative. While you will lose certain services with the $9.99 monthly essential Netflix subscription, it's helpful if you don't use them frequently, and saves you some money each month.
Only pay for one platform at a time for a given time
Switching between numerous streaming channels can be worth it if you enjoy having them rather than spending for them all at once. The apparent benefit of doing this is saving money by simply paying for one rather than four. But it also updates what you're seeing.
You may cancel Netflix, Amazon Prime Video, and Disney+ whenever you want and resubscribe at a later time. This is one of their best features. It keeps your streaming exciting rather than overloading you with too many options by choosing one provider to subscribe to each month or every few months. You may switch to a different service whenever you've become tired of the current one or when you've watched everything you want to watch.
Take advantage of free trials
Except for Netflix, almost all of the primary streaming services include a free trial. So if you choose your viewing carefully, you might be able to binge a few shows without spending a penny. Just remember to put a cancellation reminder on your calendar. Otherwise, you'll start getting charged after your trial has ended.
Share subscription with friends and family
The password-sharing rules of various streaming providers vary. They may be ambiguous and challenging to enforce. To be the devil's advocate, does it matter if all of the users on my $20 Netflix premium plan - which supports viewing on up to four devices and five user profiles - live with me?
So perhaps Justus pays for Hulu, I pay for Netflix, and we share our accounts. That's a practical approach to saving costs. Yes, you should be aware of how streaming providers are stepping up their efforts to combat password sharing.
Use Turbo VPN to Save Money on Streaming Services
Did you know that while VPNs are renowned for aiding with online privacy maintenance, they may also help you save money on streaming services? If you give it some thought, the expense of paying for various streaming services might soon mount. For instance, your monthly streaming fees would suddenly soar to $50 if you sign up for Hulu, Netflix, HBO Max, and Spotify Premium. When you combine your Netflix membership, for example, with Turbo VPN, you will not only have access to a more extensive selection of media but will also reduce your monthly streaming fees in half. On the other hand, Turbo VPN annual plan only costs $4.17/mo. You can get a Netflix membership and a Turbo VPN for about $19 monthly.
Here are essential ways you can use Turbo VPN to save on your streaming costs:
Opt-out of price discrimination
Online merchants use price discrimination strategies to target specific customers depending on their geography, browsing history, and other factors. For instance, you will automatically be charged extra based on your location if you reside in a high-income nation. Location-based pricing points for flights and some internet services, such as streaming websites, are particularly relevant.
Concerning their libraries of content available in various nations, streaming services like Netflix are subject to geo-restrictions. For instance, more content is available on Netflix in the UK than in the US. Because you are paying the same price for less material depending on your location, there is price discrimination in this case. Websites will show you their pricing points based on your personal profile. This is monitored based on your permission to cookies, your IP address, and geolocation.
Access more content
Streaming services like Netflix and Hulu geo-block their material according to the country of origin of a particular episode or movie. Concerning the earlier comparison of British and US Netflix, geo-blocking is used to persuade customers to purchase more than one version of a Netflix library. You may connect to servers in many nations utilizing a VPN for Netflix and other streaming services to view more content with a single subscription. You may access your preferred streaming services from practically any country you want since VPNs obfuscate your actual location by encrypting your IP address.
Conclusion
Turbo VPN has 21,000 servers in more than 45 countries. It gives you unlimited opportunities to choose the server of your choice and access the content you need from streaming services. For example, you may get content from Netflix UK and Netflix US in the comfort of your house.
Secondly, Turbo VPN enables you to use free streaming services, which may contain ads. This is because Turbo VPN ensures that no hacker may be able to eavesdrop on your traffic. Turbo VPN uses 256-bit AES encryption, which is impossible to penetrate.
Turbo VPN also saves you money because it enables you to share a single subscription with four other devices. Thus, not every one of your friends has to buy or purchase a membership with us. Join Turbo VPN today and save on unnecessary expenditures.