Blog
Change Your Way to Access the World with Turbo VPN - up to 69% Off!
Change Your Way to Access the World with Turbo VPN - up to 69% Off!
Turbo News · 2 minutes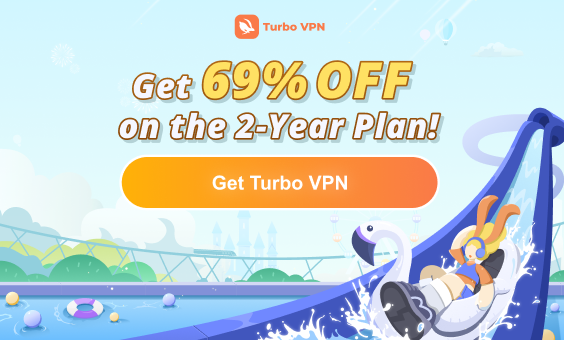 In today's interconnected world, accessing global websites and safeguarding personal privacy has become more crucial. With the advent of the internet, we can explore a vast digital universe from the comfort of our homes. However, this freedom comes with challenges, including privacy risks and geo-restrictions on certain content. That's where Turbo VPN comes to the rescue! Let's dive into how Turbo VPN empowers users to navigate the digital realm freely while ensuring online security. And don't forget to seize the opportunity of our exciting promotion on the 2-year plan!
Introducing Our Special Deal:
Turbo VPN is excited to present a limited-time offer you won't want to miss. Get ready to take your online experience to the next level with our exclusive deal on the 2-year plan. Embrace the freedom and security of Turbo VPN, all at an unbeatable price. Get 69% Off on the 2-Year Plan!
Unleash Your Online Freedom:
Turbo VPN allows users to grant access to websites and content from across the globe. Whether you want to stream your favorite TV shows from different countries or access region-specific online services, Turbo VPN ensures you can do so without limitations. Say goodbye to the frustration of encountering "This content is not available in your region" messages – with Turbo VPN, the world is your digital oyster!
Protect Your Online Privacy:
In this digital age, protecting your personal information is of utmost importance. Cyber threats, data breaches, and online surveillance are ever-present risks that can compromise your privacy. Turbo VPN provides a secure tunnel for your internet connection, encrypting and shielding your data from prying eyes. Whether browsing the web on public Wi-Fi or conducting sensitive transactions, you can trust Turbo VPN to keep your online activities private and secure.
Why Choose Turbo VPN?
High-Speed Connections: Enjoy seamless browsing and streaming with our high-speed servers, ensuring a smooth online experience.
Cross-Platform Compatibility: Turbo VPN is available on various platforms, including Windows, macOS, iOS, Android, Smart TVs, Chrome, and Game Consoles, ensuring you're protected across all your devices.
User-Friendly Interface: Our easy-to-use interface makes it effortless to connect to the VPN and enjoy the benefits of secure internet access.
24/7 Customer Support: Our dedicated support team can always assist you with questions or concerns.
High Ratings from Uses: Our app receives high ratings from users across various platforms: a remarkable 4.8/5.0 on Trustpilot, an impressive 4.7/5.0 on the App Store, and a commendable 4.6/5.0 on Google Play.
Conclusion:
Turbo VPN opens up a world of possibilities by enabling users to access global content while ensuring online privacy. Don't miss out on our summer promotion for the 2-year plan, as it's the perfect opportunity to embrace a new way of navigating the digital landscape. Safeguard your personal information with Turbo VPN. Join us today and experience the ultimate freedom and security the internet offers! Get 69% Off on the 2-Year Plan!