Blog
How to Prevent Apple AirTags from Stalking You?
How to Prevent Apple AirTags from Stalking You?
Cybersecurity · 7 minutes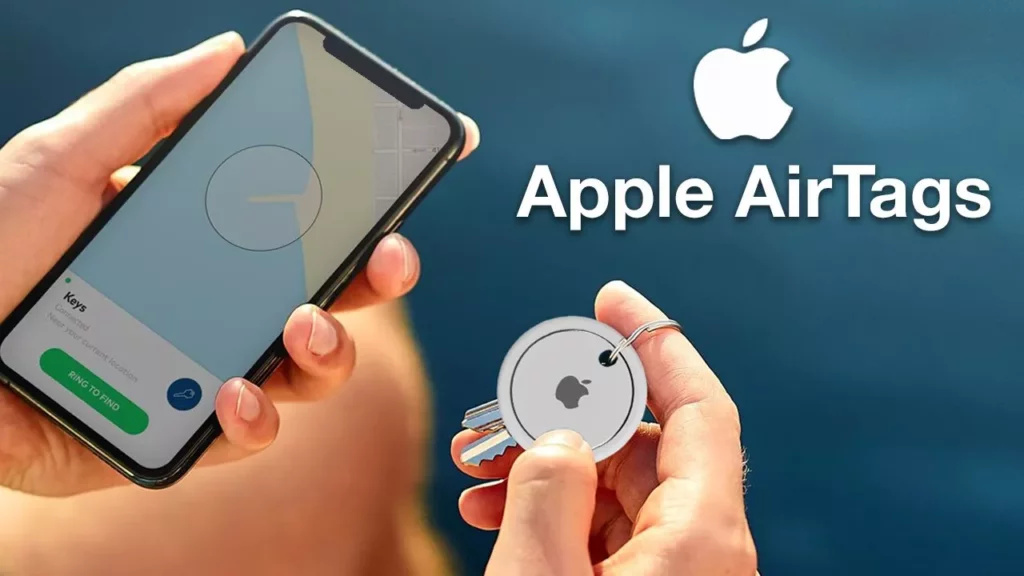 Apple introduced AirTags, one of its newest products, to its technological environment in April 2021. These 1.26-inch tracking discs do more than merely prevent your wallet or vehicle keys from falling between your couch cushions. In certain instances, outsiders are following people's movements using AirTags.
Think about getting up at a friend's house after a weekend out. As you put your coat on to go, you discover that your pocket contains a little object. You take out an AirTag, a white and silver disc. Your pals claim they did not place it there, but it is also not your property.
You get a queasy sensation in your stomach when you think of AirTags since they only have one function: tracking. Although there's no need to panic, it's crucial to comprehend how AirTags function and the potential for stalking.
What is Apple AirTag?
An Apple AirTag is a tracking gadget that is a little over an inch in diameter and is comparable in size to a half-dollar coin. They fit so discreetly in a handbag or jacket pocket that no one will ever realize they are there. Ensure that no one else ever confuses your AirTags by adding text or emojis to them.
You may also connect the gadgets to leather or silicone keyrings, ensuring they don't end up lost in the depths of your backpack.
When coupled with your Apple ID, AirTags employ ultra-wideband technology and Bluetooth to communicate location data, ensuring you never misplace any critical equipment like wallets, headphones, keys, or bags.
You can attach one to your keys, tuck one in your bag pocket, and tuck another into your wallet for as little as $29 (or $99 for four). The replaceable AirTag battery has a lifespan of more than a year. Use won't affect battery life because it doesn't utilize any data. Additionally, it can withstand water for 30 minutes.
How Does Apple AirTags Work?
The way AirTags function is by transmitting a Bluetooth signal to iCloud. The signal is then picked up by any Apple products connected to the "Find My" network, including Mac computers, iPads, and iPhones.
If you tend to misplace items, you may use Apple's Find My app to find your AirTag and ask it to make a "ping" tone utilizing the device's built-in speakers. You should follow the app's sound direction until you find the device you are searching for.
Your ability to locate missing things using AirTags will vary based on how old your iPhone or iPad is:
Older iPads and iPhones: Apple AirTags rely on the Bluetooth transmissions of other Apple devices nearby (within 30 feet) to find your possessions for older iPhones and iPads upgraded to iOS 14.5 and iPadOS 14.5. According to Apple, every stage of this procedure is encrypted, meaning no one can use the AirTag to access information about you or your device.
Newer iOS models: AirTags use ultra-wideband technology and are compatible with iPhones 11, 12, and 13 (with a U1 chip). This technology can find your object down to the centimeter with a short-range radio link and extremely high GHz frequencies. This implies that users may utilize arrows to pinpoint the exact position of a lost item.
By default, only Apple users may receive AirTag signals. To scan AirTags nearby, Android users must download apps like the Tracker Detect created by Apple. You may also utilize other applications, such as the Android versions of Tracker Detect Pro and AirGuard.
How to Know If an AirTag is Tracking You?
The ease of finding hidden AirTags varies depending on the model of smartphone you use. Every time an unidentified AirTag is closed for a lengthy period and is separated from its owner, owners of iPhones running iOS 14.5 or newer should get a push notification. A particular period for when this notice is issued is not given on Apple's website.
You could be offered the choice to play a sound on the AirTag to aid in locating the device when you click on the iPhone alert. By running the Find My app, selecting the Me tab in the bottom right corner, and ensuring Item Safety Warnings are green and toggled to the right under Notifications, you can confirm that you will get these alerts.
The Android app does not immediately scan for unidentified AirTags as the security features for the iPhone do. A user must start the scan.
How to Protect Yourself from Being Tracked by AirTags?
Apple encourages getting in touch with your local police enforcement so they can cooperate with the firm if you feel like your safety is in danger (you might need to provide the AirTag or its serial number). However, some victims might find it challenging to do so. Here are some other potential countermeasures to avoid being the target of an AirTag stalker.
Search yourself manually
The simplest method of defense is to physically check yourself and your vehicle for any potential hiding spots for an AirTag, such as pockets or backpacks, or even beneath cushions. However, this isn't the most efficient method, given that AirTags are so small and discreet.
Try to narrow it down
Consider what information they appear to know if you believe someone is tracking you with an AirTag or a similar device, and attempt to limit the items you have with you at those times. This might aid in locating any potential threats in your house, automobile, or personal possessions.
Find the AirTag's serial number
If you discover an AirTag is on you, there are two ways to determine its serial number secretly.
If you have an iPhone, you may install the Find My app from Apple and hold the AirTag next to your phone to locate it. Tap the AirTag's name when you find it. The serial number will be displayed next to the name. An alternative is to tap and hold your NFC-enabled iPhone or Android phone's top against the white side of the AirTag, then tap the notification that displays. The serial number may be seen on the newly opened homepage.
Disable the AirTag
Near turning the AirTag counterclockwise on the back by the Apple logo and removing the battery, you may quickly and effectively deactivate it to cease sharing your location if you find one on you. Your location will no longer be visible to the person on the other end of the line.
However, domestic abuse specialists advise developing a safety plan and speaking with a domestic violence agency before switching off the tracker if you discover that you are being monitored, especially by a current or previous intimate partner.
Use VPN to Encrypt Your Privacy Online
Your privacy is as essential as your reputation. Therefore, you must keep your privacy at whatever cost.
Just like the AirTag can compromise your privacy, surfing the internet may place you in danger. Hackers attempt to intercept traffics between your device and the internet. As a result, they can eavesdrop on your communications, inject malicious software, or steal your private information.
Do you want to keep your privacy? VPN is your solution while surfing. Your computer and a VPN server are connected via an encrypted channel thanks to a VPN. Your data is shielded from third parties online, thanks to this. Additionally, it conceals your actual location, enabling you to visit websites restricted in your nation.
Research potential VPN providers carefully before committing. Look for a VPN that has solid security features and a good reputation. Also, never utilize a free VPN service!
One of the most well-liked VPNs available is Turbo VPN. You may use it to safeguard your online security and privacy. It is accessible for iOS and Android devices. Turbo VPN encrypts your data and shields your device from ISP or third-party website tracking. It is a VPN that is free and simple to use, making it ideal for regular usage.
The quickest and safest VPN connection is what Turbo VPN offers you globally. We have developed over 21,000 secure servers in more than 45 countries and have the confidence of 300 million people.
Conclusion
In all aspects of our operations, services, and product engineering, the customer's needs come first. To facilitate and secure your online experience, we also wholly protect our client's privacy and offer the warmest 24/7 customer support. Stay safe online with Turbo VPN.